SWITZERLAND BY RAIL - REGIONS - ZURICH
GROSSMÜNSTER CATHEDRAL – ZURICH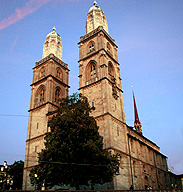 The Grossmunster Cathedral (meaning large or great monastery church) with its twin bell towers is one of the iconic symbols of Zurich. Built around 1100 on a hill above the Limmat River the protestant Grossmunster's architecture is primarily Romanesque and notably rather austere in its interior decoration, due to the influence of the reformation, most associated with Ulrich Zwingli, who became the pastor in 1519. Martin Luther had begun the revolution in religion two years before in 1517, and Zwingli brought the new ideas to Switzerland, advocating the marriage of priests and the end of fasting for lent. Zwingli's reforms were furthered by Heinrich Bullinger, the next pastor of Grossmunster, who along with Jean Calvin in Geneva, solidified Switzerland's reformed church.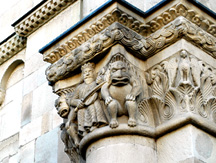 The twin towers harken to the legend of two brothers, Felix and Regula, who survived the slaughter of their early Christian order by the Romans and escaped to the north along the Limmat River, where they were captured and executed. The legend tells that the beheaded brothers, rose to their feet, picked up their decapitated heads and walked 30 paces where they wanted to be buried. Then, 600 years later, the Frankish king Charlemagne, while on a hunt, was thrown from his horse, which had stumbled on the tomb of the martyred brothers. The king ordered a great church built on the spot in and the martyrs made into saints.
While most of the cathedral is Romanesque, later Gothic features were added and the bell tower caps are a neo-gothic 18th Century addition, following a city fire in 1786. The best preserved image in the church is of Christ Arisen surrounded by torture instruments. Heavy bronze doors in the west portal from 1950 feature sculpted bible stories Charlemagne's connection to the Grossmunster legend can be seen in the both a replacement relief, sitting on a throne with a sword and gold crown on his brow, high up on the west wall. The original 15th Century statue can be found now in the crypt under of the church.
Compare hotel and travel deals in Zurich on TripAdvisor
Swiss Pass Unlimited Travel