SWITZERLAND BY RAIL - REGIONS
Zurich Region
Zürich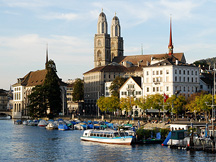 Zurich is the largest city in Switzerland and perhaps the first region to be encountered for international visitors arriving in the country. The area aroud Zurich on the central plain is composed of low hills and woodlands, with rivers and lakes and picturesque villages not far away. The Alps mountains are a bit distant but reached by train in an hour, three to the southern range. Zurich can be the jumping off point for a vareity of touring adventures. There is lots to do and discover in the city, starting with the famous shopping street the Bahnhofstrasse which begins just outside the train station. Zurich's old town is a stroll away with its quaint shops below the twin towers of the symbolic Grossmünster Church. An intimate metropolis filled with theaters for ballet and opera, plays and musicals, over fifty museums and a hundred art galleries, and the Limmat Quai along the shore of Lake Zurich.
Winterthur
Winterthur was in the center of Switzerland industrial region and has transformed into a lively cultural city with a wide ethnic mix. Winterthur offers 17 museums, as well as night clubs and bars, inclduing the only 24 hour bar in Switzerland, and a varity of sports and entertainment. The rioling Rhine Falls at Schaffhausen, Europe's "Niagara" is a 20 minute train ride away.
Rapperswil, Jona & Lake Zürich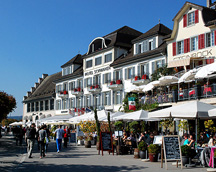 Rapperswil, is a charming tourist town on the south eastern end of Lake Zurich, about a half hour by train from Zuric and on the Pre-Alpine Express route from Lucerne. The lake riviera offers boating and outdoor restaurants, while the old town with a bit of a climb through the famous monastery rose gardens to the walls of the castle will charm with its many attractions, while below the wooden walking bridge across the lake allows you to "walk on the water". For kids, the Knies Children's Zoo, Alpamare Water Park and Atzmännig Ttrampoline Park makes this a family-friendly destination.

Baden
Baden in Switzerland, while not to be confiused with Baden-Baden in the German Black Forest, is also famous for its Grand Casino, but also an historical city with a lively cultural life.


Compare hotel and travel deals in Zurich on TripAdvisor
Unlimited Travel in Switzerland with Swiss Pass