SWISS PASS - 2 FOR 1 DEAL - RAILEUROPE - FALL 2012
This deal has ended! But Rail Europe is currently offering a 25% Off Deal check Rail Europe: Specials & Promotions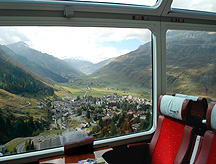 For sale through November 21, 2012 from RailEurope and Swiss Rail. Book two travelers on a Swiss Saver 4-day Pass or Swiss Saver 4-day Flexi Pass and only pay the price for one traveler during this special offer 2 for 1 autumn special. With just one ticket, the Swiss Pass, you can see the most spectacular scenic wonders, untouched natural beauty and explore a country wide scenic wonders and unique museums, all included with one price. From the train station to your hotel, into the city or to a museum, all by public transport on one pass.
These passes give you unlimited travel on the Swiss transportation system. The Saver Pass is for consecutive days and the Flexi Pass is for a set number of days of travel mover a specified time frame. With either you get unlimited travel on the Swiss Travel system and free access to over 400 museums. The consecutive Saver Pass is available for 4, 8, 15, 22 days or 1 month of consecutive travel. The Flexipass is available for 3, 4, 5 or 6 days of consecutive or non-consecutive travel within a 1 month period. You could travel on a Monday and then again on Thursday this would count as 2 days of travel.
The Swiss Pass, as well as the Swiss Flexi Pass, Swiss Saver Pass and the Swiss Youth Pass, allow for unlimited travel on urban public transportation in 41 towns and cities, free museums and discounts on select excursion aerial cables and cog trains. The SaverPass is for two traveling together. Passes are available in First Class or Second Class.