SWITZERLAND BY RAIL - REGIONS
Lake Geneva Region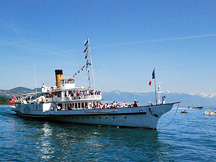 The Lake Geneva region surrounding Switzerland' largest lake in the south west part of the country bordering France and Italy is the majority French speaking region, called the Vaud in French. It is this part of switzerland with its gorgeous long lake shore (in French Lac Leman) which attracted the famous figures of literature, music and culture and made Switzerland the international icon it is. Charlie Chaplin to Freddie Mercury, David Bowie, Isabelle Adjani to Charles Aznavor, Lord Byron to Nestle all called the Lake Geneva region home, from metropolitan luxurious Geneva to the 500 year old hillside vineyards of the Lavaux. The Lake Genva region calls itself the "four worlds", with lake, hills, mountain peaks and bucolic valleys, few areas in Switzerland offer as wide a variety of holiday destination as does the area surrounding Lake Geneva, from the Red Cross Museum in Geneva, the Olympic Museum in Lausanne, to the Jazz Festival of Montreux. An active cultural life and outstanding shopping characterise the cities of Lausanne, Vevey-Montreux, Nyon, Rolle, Morges and Yverdon-les-Bains.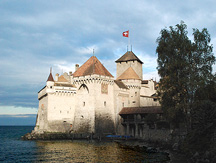 In Summer - the Lake Geneva Region is about the lake sceneery wit its hillside vineyards along the shore with the Alpine peaks beyond. Castle Chillon and the riviera of Lausanne, nncient wine growing towns and farm villages tucked into the hills above the lakes, with cycling and hiking trails, the Chocolate Train and Golden Pass from Montreux, the wine vineyard train from from, Charlie Chaplin's adored Vevey with its Food Museum in the Nestle mansion where milk chocolate was born. Unspoilt nature in the peaceful Vallé de Joux and hot air balloon rides from Chateau d'Oex. The Jura mountains to the north and the Vaud Alps to the east, with lush pastures of cows, chalet villages, mountain peaks and glaciers, as well as sunny plateaus for a relaxing vacation or active sport adventurers.

In Winter - downhill skiing on the Alpine glaciers of the canton of Vaud with 500 km of downhill runs, cross-country skiing or snow-shoeing across the Jura range. Charming mountain villages present a wide range of winter sports, from ski runs to Igloo adventures, while city life in winter offers of plenty of shopping and sophisticated dining. Extensive woods and plateaux entice you to explore the Vallée de Joux, St-Cergue or Ste-Croix & Les Rasses.
Compare hotel and travel deals in Lake Geneva on TripAdvisor