MATTERHORN-GOTTHARD BAHN
Disentis-Brig-Visp-Zermatt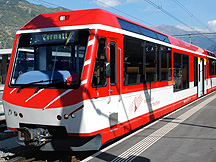 The Matterhorn-Gotthard Railway is network of narrow gauge track railways in the south central part of Switzerland, taking its name from a combination of the Matterhorn Mountain and the St Gotthard Pass and the first tunnel through the Alps between Switzerland and Italy. The company is an amalgam of three earlier railways, and runs from Zermatt at the base of the Matterhorn through Brig to Disentis, crossing through three cantons. The line runs over the Oberalp Pass via Andermatt, through the Furka Base tunnel and to Göschenen, at the north end of the Gotthard Tunnel. The Glacier Express scenic route travels on the Matterhorn-Gotthard tracks between Zermatt and Disentis where is connects with the Rhaetian Railway to Chur. If you don't have time for the full Glacier Express route, you can purchase a ticket for the Disentis-Zermatt portion, or connect at Andermatt from Lucerne or Lugano, to Zermatt.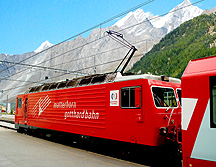 The branded Glacier Express runs four times a day but the standard operations along the network of the Matterhorn-Gotthard Bahn runs a full schedule of trains. The railway line passes through 33 tunnels and crosses over 126 bridges and viaducts. Several portions of track are on cog rails on the steeper grades. The lowest point is Visp at 2,000 ft and the highest is the Oberalp Pass at 6,700 ft. above sea level. The Gotthard-Matterhorn line connects with the main lines from Geneva or Zurich at Visp. The journey from Zurich through the new Lotschberg base tunnel takes about three hours. The regions covered by the railway features some of Switzerland's most magnificent Alps peaks, skiing and hiking. From Zermatt, connect with the Matterhorn-Gornergrat railway or Klein Matterhorn cable. From Brig, connect to the BLS Lotschberger Express line which runs over the scenic Lotschberg Pass tunnel to Thun and Bern. Bus connections rise to the holiday region of the lower Aletsch Glacier.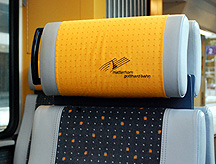 Brig was the former Swiss connection of the Simplon-Orient Express, which traveled through the Simplon tunnel and was the main connection point for trains from Italy and from northern Switzerland, but that function has been taken over by Visp with a brand new railway station with a modern travel center for multiple connections and regional activities. The Gotthard-Matterhorn line operates engines in distinct red and white livery, with a variety of coaches, both first and second class or combination. Newer coaches including wheel chair accessible bathrooms are dressed in gold and grey. The line offers a special Bike & Bahn package for rail and bicycle touring of the Valais region, a Cross-Country skiing package, as well as a special Brunch journey and a Gourmet Tour with a five course meal and matched wines from the Valais region. A car parking garage with 3,000 spaces is located in Tasche in the Zermatt valley, connecting with a shuttle to Zermatt, or for leaving your car to travel the region on the railway. © sbr