THURBO
Thurgau - Lake Constance Rail Line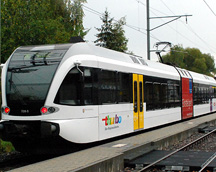 Thurbo is the regional rail line of Eastern Switzerland Thurgau region, operating rail service along the Swiss shore of Lake Contance (Bodensee). The rail line connects the towns along the lake shore from Rorschach, Romanshorn, Arbon, Horn, Kreuzlingen to Schaffhausen and the Rhine Falls, with connections from St Gallen and Winterthur. The Thurbo trains run daily along the route every half hour. The trains are modern and sleek two car units with large view windows, both 1st Class and 2nd Class sections, from which the lake shore is visible for much of the route. No special ticketing is required.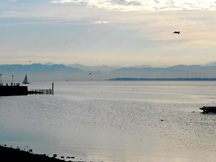 The rail line makes 15 stops between Schaffhausen and Rorschach, with rail station to ship cruise docks, in most cases, a short walk for easy train to ship connections. Aside from the Lake Shore activities, hiking and biking trails, some interesting features along the line are the historic mechanical rail signals at the Arbon station. the Napoleon III Museum at Arenenberg (a hike up the hill with broad views of the lake), the castle and vintage car museum at Arbon and Aviation Museum at Rorschach, connect by ferry from Romanshorn to Friedrichshafen for the Zeppelin Museum or Sea Life Exhibit at Konstanz. Lake Constance Cruises
The Rail line offers rail and cruise combinations and a Leisure Card with a map of the area with 200 activity ideas and coupons available for CHF 20 from train station offices and area bookstores, or online. A late night train and bus service called the Night Wind offers after midnight transportation for late night bar hopping on weekends for a surcharge of CHF5.
Unlimited Travel in Switzerland - Swiss Pass