DIE ZENTRALBAHN
Lucerne to Engelberg and Interlaken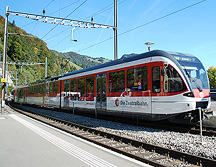 Die Zentralbahn (Central Railway) is one of Switzerland's newest regional rail companies, formed in 2005 in a merging of the LSE (Luzern Stans Engelberg Bahn) and the Brünigbahn and the KLB (Kriens Luzern Bahn) between Luzern and Horw. The lines run from Lucerne main station west and southward to Engelberg and Stans in one direction, and over the Brünig Pass to Interlaken Ost (east) station in the other route, with the line splitting at Hergiswill along Lake Lucerne. The Zentralbahn runs though some of Switzerland's most scenic country, below mountain peaks, through high pastures and past deep lakes.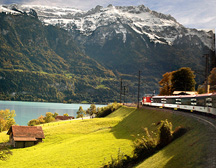 The Golden Pass Line panoramic trains run along the Zentralbahn tracks past Lake Brienz and over the pass between Interlaken and Lucerne. The Zentralbahn is the rail line to the Mt Titlis rotating cable car to the Glacier Park and Ice Flyer, the Mt Pilatus Rack Railway station at Alpnachstad, and the village of Meiringen, with winter sports, summer hiking, and made famous from Sherlock Holmes as the location of the Reichenbach Falls. From Interlaken Ost, connect to the trains of the Jungfrau region and the Bernese Oberland, to the cog railways and Alps aerial cable of the Jungfraujoch, Grindelwald and Schilthorn-Piz Gloria. From Meiringen, PostBus routes travel the high central Alps passes to the southern Valais and Italian Switzerland of Ticino.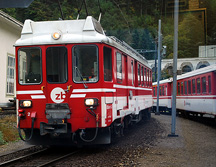 Engelberg is about an hour from Lucerne and Interlaken about 2 hours. Zentralbahn trains run on an hourly schedule between 7 am and 9 pm. From Lucerne to Stans and Giswil they operate every half hour. GoldenPass Panoramic trains and the new Lucerne-Interlaken Express operate between Lucerne and Interlaken Ost. You can make a reservation for the GoldenPass Panoramic Train for the partial route on the Zentralbahn line or the full route from Lucerne to Montreux. The line operates S-Bahn service in the Lucerne area. The Zentralbahn operates sleek new trains in joint car units with the large Zb logo, as well as older classic equipment of cog drive engines for the trip to Engelberg. The line between Stans and Engelberg is a rack railway requiring a change of engines and a steep climb through the Grafenfort-Engelberg tunnel to Engelberg. Steeper grade sections on the line over the Brünig Pass are also rack system. The trains reverse direction at Meiringen.
The line makes a number of stops along the north shore of Lake Brienz, connecting to cruise boats and lake activities on the astern lake of Interlaken, as well as connections at Alpnachstad and Stanstad to Lake Lucerne cruise boats. No special ticketing is required for the standard ZentralBahn trains and travel is good with a Swiss Pass or other Rail Pass. You can also board the Golden Pass in available seats with a pass or individual ticket.

Unlimited Travel in Switzerland - Swiss Pass