CHABLAIS - VALAIS-VAUD - REGION RAILWAYS
TPC CHABLAIS TOURIST TRAINS FROM AIGLE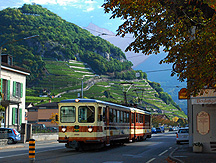 The TPC lines (Transport Publics du Chablais) are a collection of narrow gauge cog train lines which run from Aigle and Bex in the Rhone Valley just beyond the eastern end of Lake Geneva, connecting the Geneva-Brig main Swiss National Rail lines into the mountain villages and ski resorts of the Chablais Alps, connecting the Vaud and Valais regions. Four individual railway companies ASD, AL, AOMC and BVB, joined together in 2,000, all departing from side by side tracks in Aigle, next to the main station. The rail lines operate in conjunction with local and Post Bus services to extend connections. Swiss Pass and Eurail Passes including Switzerland are valid on all the lines with no supplement necessary. Occasionally the rail lines may be curtailed for construction, with bus service provided.
Aigle-Sepey-Diablerets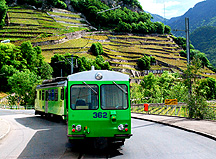 Running through arc tunnels and dizzying viaducts, the ASD line from Aigle to Les Diablerets winds a path, starting down the middle of the streets of Aigle, through the vineyards surrounding the Chateau Aigle on the river basin plain, up the sides of a mountain precipice, with breathtaking landscape views back toward the Rhone Valley, one of the most scenic of regional rail lines. This is the route to connect the Valais to the ski resort of Les Diablerets, with Post Bus connection to Glacier 3000 and Gstaad, there connecting with the Golden Pass Rail Line from Montreux to Interlaken.
Aigle-Leysin

Aigle-Leysin line travels northwest from the Aigle main station through the vineyards before climbing to the mountain village of Leysin at 1450 meters altitude. Leysin sits on a ledge terrace overlooking the Rhone Valley. Leysin is a major ski resort in winter and offers hiking, paragliding and other sports in summer. Leysin is also home to several international schools.
Aigle-Ollon-Monthey-Champery
The NOAC winds south through a beautiful panoramic landscape, crossing the Rhone Valley, from Aigle where the rack rail climbs the Valais mountains slopes, rising to the villages of the Valley Illiez, Ollon, Monthey and Champery. Champery is the gateway to the Portes du Soleil Ski Resort and summer sporting area which borders with France.
Bex-Villars-Bretaye
The BVB travels south to Bex then eastward into the mountain slopes and the villages of Villars and Bretaye. A winding route crossing rivers and valleys before rising to 1400 meters in altitude, arriving in the Villars-sur-Ollon Alps resort, including a Club Med.

Unlimited Travel in Switzerland - Swiss Pass