RHAETIAN RAILWAY
Railway of the Bernina and Glacier Express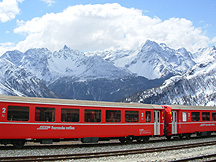 The Rhaetian Railway (Rhätische Bahn in German, Ferrovia Retica in Italian and Viafier Retica in Romansh) is the largest network of the private railways i nSwitzerland, operating in the Swiss Canton of Graubünden, with headquaters in Chur and serving the Engadin, through the UNESCO World Heritage tunnels and bridges which make up parts of the scenic routes of the Glaciet Express and Bernina Express panoramic trains. The railway serves several of Switzerlands southeastern tourist centers, including St Moritz and Davos, crossing the Bernina Pass to the Italian border at Tirano, where a change of stations link to the Italian Railways.
The Rhaetian Railways developed in several stages over the 19th and early 20th centuries, with a number of different electrification systems in use with the Landquart to Davos line the first built in the system. The Rhaetian Railway operates on some of the steepest grades in Switzerland without the use cog track systems by engineering its track routes with circular grades where tunnels and one viaduct loop, making for its historic World Heritage status. The network contains 84 tunnels and 383 bridges and viaducts. The Albula-Bernina line of the railway which crosses the Rhine River and follows the Albula River from Chur to St Moritz, Pontresina and through the Bernina Pass, is one of the some of the most dramatic railway passage routes in the world. Including the famous Landwasser Viaduct which crosses on stone arches high above the Albula river, before entering the sheer rock cliff, one of the most photographed railway bridges in Europe.
The railway operates regular rail service on a variety of rolling stock, generally distictive fire engine red livery, as well as the branded panoramic scenic trains of the Glacier Express and Bernina Express. The Rhaetian Railway connects with the Matterhorn-Gotthardbahn railway at Disentis. Ticketing for the Rhaetian Railway train system is connected through the SBB national railway system. Swiss Pass and Eurail Passes are valid, with the branded scenic train requiring a reservation and possible suppliment

Unlimited Travel in Switzerland - Swiss Pass