BERN - SWITZERLAND
What's on in Bern for Fall 2013 - Events and Special Exhibits
Qin – The Eternal Emperor - Mar 15- Nov 17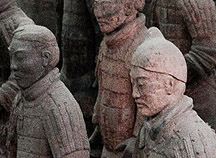 The 2,000 year old Emperor and his cermamic burial army continue their march around the world, conquering Bern through mid November. Discover the history and civilization of China in the Bern History Museum's exhibition "Qin – The Eternal emperor and his terracotta warriors". Learn more about China's first First Emperor Qin Shi Huangdi. The emperor and his warriors have been tourin for a number of years now. So rather tha go all the way to China, why not Switzerland! And the history museum is pretty cool in itself. Check out the Einstein history while you're there.
Federal Wrestling and Alpine Games Festival Aug 30 – Sept 1

Up for a good grapple and stone toss, The Federal Wrestling and Alpine Games Festival (Eidgenössisches Schwing- und Älplerfest) is Switzerland's largest recurring sporting event and one of the country's most significant folk festivals, held in a different location around the country only every three years. Over a quarter million spectators are expected to follow the events of the traditional Swiss sports of Schwingen (Swiss wrestling), Hornussen (a traditional team sport, which involves throwing and catching a type of puck called Hornuss) and Steinstossen (stone throw) live at the "Emmental Arena", the largest stadium in Switzerland, and other venues.
Bern Music Festival and Biennial Sept 3 – 15

Over 10 days, two joint festivals offer a unique, comprehensive experience of cultural creativity in Bern. While the emphasis of the Bern Music Festival is on musical milestones throughout the ages, the Bern Biennial has a contemporary and interdisciplinary focus. The partnering festivals are held in alternating years. A whole variety of Bernese institutions and ensembles join with renowned guest ensembles and soloists from throughout Switzerland and the world.
Suisse Toy and E Games Oct 2 – 10

For the kid in all of us, play as much as you want in Switzerland's largest toy land. In four exhibition halls and thoughout open-air grounds, Suisse Toy will be presenting a broad spectrum of games and toys, creative characters and multimedia. The 13th edition of Suisse Toy, Switzerland's largest toy and game event, starts the ball rolling for the Christmas shopping season, each year nearly 200 exhibitors delight 55,000 children, youth and adults with an invitation to "touch and try" everything!

Rendez-vous Bundesplatz Oct 18 – Dec 27

Every evening, from 7 pm to 8:30 pm, the Parliament Building takes on a whole new light for 20 minutes. Using images, animation and sound, this breathtaking rendezvous for the senses light show invites you on an impressionistic journey through Switzerland guided by the motto "Innovation out of tradition" in Parliament Square.
Onion Market (Zibelemärit) Nov. 25

The "Zibelemärit" (Onion Market) is a traditional Bernese folk festival held on the 4th Monday of every November. Farmers from the surrounding area bring over 50 tons of onions – artistically woven into braids – to the capital, along with garlic. Colorful market stalls offer ceramic pots, vegetables, traditional market goodies and mementos. To help resist the winter cold, don't miss the Glühwein stand with its hot mulled wine. The aromatic festivity gets underway at 5:00 am for a day of savory cheese tarts, onion tarts and onion soup on offer in all the restaurants. Kids get to scatter confetti in the streets and have fun at the fairground.
Christmas Markets Nov 30 – Dec 28

Like much of the rest of the German speaking world, Bern has its Weinacht Markts as streets and alleyways glow with the warm lights from city houses, as little Christmas trees decorate the doorways and windows. The ancient houses of the Old Town, dating from the 15th to 17th centuries, provide an especially charming backdrop for the Bern Christmas markets. The market in Münsterplatz is devoted mainly to arts and crafts and more traditional market fare can be found on Waisenhausplatz, a 10-minute stroll away. Enjoy the Glühwein while browsing the candles and crafts and stop into one of the legendary restaurants in the Old Town – either the 350-year-old Klötzlikeller or the Kornhauskeller way to end a visit

Find best travel and hotel deals in Bern on TripAdvisor
Unlimited Travel in Switzerland with Swiss Pass