SWITZERLAND BY RAIL - REGIONS
Lucerne - Lake Lucerne Region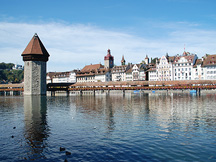 The city of Lucerne (Luzern) is one of the most beautiful cities in the world with its year around photographed Chapel Bridge, with the mighty snow capped Mount Pilatus peak in the background, lake vistas from the ancient medieval Musegg Walls above the city, to the mysterious stoney pits of the Glacier Garden, the amazing Transport Museum, Richard Wagner House, the Lake Lucerne historic Paddle Steamers, to the Picasso Collection at the Rosengart, Lucerne is possibly Switzerland's most activity rich city.
Lake Lucerne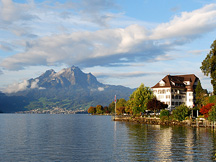 The area around Lake Lucerne formed from the River Ruess, also known as central Switzerland and the "four lands", is where the Swiss Federation was formed when the peoples of independent Uri, Schwyz and Unterwalden joined in united alliance in the valley of the Rütli. This is the region from where the legend of William Tell was born, as well as the birth of modern tourism. The Schöllenen Bridge viaduct made north-south travel across the Gotthard Alps mountain range possible, and in 1871 the first tourist cog train climbed Mt Rigi, attracting Mark Twain to write of his adventures, drawing the world to the Swiss middle lakeland.

In summer - cruising the lake on elegant paddle steamers to historic sites, musuems and enchanting countryside, from the monument to William Tell to majestic mountain peaks, from charming cities to remote Alpine valleys. Wind surfing and pargliding, mountain trains and cable cars to high altitude resorts. In winter - Lucerne lies in the midst of some of the most beautiful ski areas in the region, reachable within an hour's travel to Titlis, Amdermatt, or Melchsee-Frutt.
Lake Lucerne Hiking Paths
Lucerne Festivals and Events 2014
Compare hotel and travel deals in Lucerne on TripAdvisor
Unlimited Travel in Switzerland - Swiss Pass